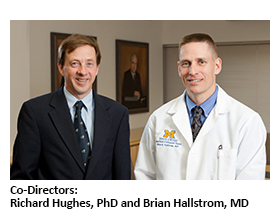 MARCQI is a group of orthopaedic surgeons and medical professionals dedicated to improving the quality of care for patients undergoing hip and knee replacement procedures in Michigan. Our objective is to promote a state-wide consortium for the collaboration and sharing of "best practices". By collecting and analyzing data, and then reporting results back to the providers, quality improvement initiatives are implemented.
The MARCQI Coordinating Center, located at the University of Michigan, has built a statewide registry of hip and knee replacement procedures. The registry allows healthcare facilities across the state to collaborate to improve the quality of care provided to hip and knee replacement patients. MARCQI is proactively helping providers and sites deliver the highest quality care by answering questions regarding clinical indications, surgical techniques, perioperative management, and eventually, the appropriateness of total joint replacement and revision procedures. The incidence of complications and revisions combined with the high cost of providing care makes total joint replacement an obvious opportunity to improve healthcare value by improving quality.
MARCQI is led by Brian Hallstrom, MD, Clinical Associate Professor in the Department of Orthopaedic Surgery at the University of Michigan and Richard Hughes, PhD, Associate Professor of Orthopaedic Surgery, Biomedical Engineering, and Industrial and Operations Engineering at the University of Michigan. Dr. Hallstrom specializes in adult reconstruction of the hip and knee. Dr. Hughes has focused his research on the application of operations research and biomechanics to problems in musculoskeletal injury prevention, treatment and rehabilitation.
MARCQI is part of the international arthroplasty registry community. MARCQI is an associate member of the International Society of Arthroplasty Registries (ISAR). MARCQI supports the American Joint Replacement Registry (AJRR) by encouraging MARCQI members to participate in AJRR.
MARCQI has no relationship with medical device manufacturers. MARCQI maintains an active disclosure process for speakers and those requesting access to the database.