MARCQI is working with providers across Michigan to obtain Patient Reported Outcomes Surveys (PROS) for patients who have undergone a hip or knee joint replacement. These surveys are very important tools that help providers better care for their patients. PROS collection also helps other patients across Michigan who will have future joint replacements.
While a doctor can judge the clinical outcome of the surgery, only the patient can convey how much they have improved after surgery. Patients will be asked to complete a survey about how their health and lifestyle have been affected by hip or knee pain and/or stiffness. The surveys that MARCQI collects are the PROMIS-10, HOOS JR or KOOS JR, two questions regarding Opioid Use and three supplemental questions recommended by the Centers for Medicare & Medicaid Service (CMS).
Survey Specifics
Each survey consists of 19-20 questions and usually takes less than five minutes for a patient to complete.  MARCQI recommends PROS collection at the following times:
Within 90 days prior to surgery
5-13 Weeks post-op
1 Year post-op
2, 5, 10 Years post-op
PROS Collection Process Overview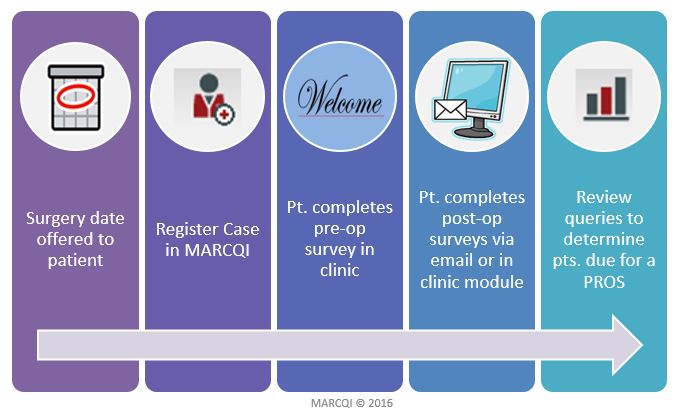 Sign into the MARCQI Database with your Quick Registration User ID:
Pre-op PROS are collected when an elective Hip or Knee replacement/revision is scheduled (for patients 18 years and older).
Post-op PROS are collected after surgery at 5-13 weeks post-op, 1, 2, 5, and 10 years post-op.
Register the patient and case in the MARCQI Database:
Perform a search to determine if patient exists in the database.
If patient is found, confirm birthdate and proceed to add a new case.
If patient is not found, proceed to add the patient and case.
Save the information and log out of Quick Registration.
Sign into the MARCQI Database with your Clinic Module or PROS User ID:
Verify that the "Welcome" screen is visible on the tablet or kiosk.
Explain the survey to the patient and offer assistance if needed.
The patient will be prompted to answer 19-20 questions, which should take less than 5 minutes.
Receive the tablet and results from the patient:
Staff will record the displayed survey score in the patient's record and provide the exit ID of 1234 to return to the "Welcome" Screen.
 If the patient provided an email address, a PROS survey link will be sent electronically at 5-13 weeks, 1, 2, 5, and 10 years post-operatively.
Review PROS data in the database:
Individual patient scores and trends.
Status reports to track collection efforts:
 A pre-operative PROS completion list
 A post-operative PROS forecast
To learn more about the PROS collection process that is recommended by MARCQI, please review our MARCQI PROS Process Guide and the PROS Implementation Webinar recording. These resources can be found in Forms and Resources section of the Participants menu on this website. Please note: A login will be required to access these documents.